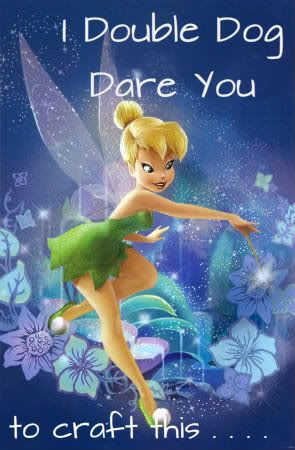 The group this month was Double Dog Dared to create a garden project since April Showers brings May Flowers whether it be a card, lay-out, with their creativity being the only limitations!!!!! We had several talented crafters that took that challenge for today's hop!!!!
From Lynne's stash, if you remark on each of the blogs, one lucky winner will receive flowers and buttons to add to their collection to create their own garden!!!!
For my project I created a 4 inch square mini album to hold pictures of my spring plantings!
The album was made with one
12x12
sheet of
card stock
and is an adaptation of the meandering mini book.
It has two page pockets and 3 diagonal pockets. I will confess I am Embellishment challenged and am always afraid to over do so I under do. This cover was a real challenge for me I like it but it was nerve wracking to say the least! LOL
For the cover I used the Spring Cottage cartridge and cut the gate 3 times and stacked them for dimension and strength. the ferns were cut from the same cartridge The Roses were cut from the Art Philosophy cartridge art1.5 inches The sentiment on the cover came from "Pink By Design" Artisan Tags set.
I used the Art Philosophy cartridge and the Mothers day Bouquet cartridges to cut out all the the flower and leaf shapes
The Tags and the tiny butterflies were punched wit a couple Creative Memories punches and the tags were embossed with an assortment of embossing folder. All the
patterned
paper was from an SEI bundle I got for cheap at Tuesday Morning.
My printer ink is low yellow is empty so my photo prints look off.
While rummaging through my stash I came across this seed packet holder I made last year and thought I'd add it to my garden post. I can't remember what cartridge it came from will have to research that one.
Our list of talented, creative hoppers include:
Your next stop along the way is the very talented Kimberly
Thanks for stopping by today!!! Hopefully, the cold weather decides to finally go away and the spring follies begin!!!!!
Big Blog Hugs, Janet